Welcome to the

World of Saajo



From the later part of the '80s till the current time – December 2018 – a fairly long time has passed since the inception of Saajo. And we have also grown up to one of the premier health and beauty clinics in Kolkata while the start up was a mere neighborhood parlor. Now our organization has become the most well-equipped health club and beauty clinic in North Kolkata. The facilities that are available here include multiple gyms, sauna bath as well as several other fitness and beauty treatments of current time.
We take pride for the updated beauty and skincare techniques used here to serve the clients. These include different facial and nail extensions, permanent make-ups of eyebrows, eye-lines and beauty spots. The haircuts and styling, body and foot spa are done by using latest technologies.
We are among those beauty clinics in Kolkata that has been ranked as prestige parlor by Loreal. All these parlors are ranked on the basis of hair treatment techniques practiced there.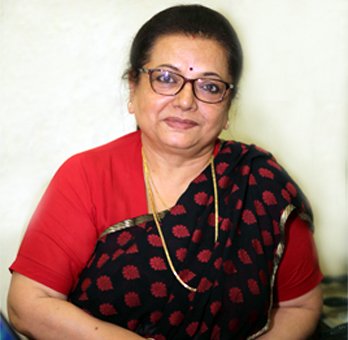 DIRECTOR'S
VOICE
The idea of forming SAAJO started almost 40 years ago. Saajo is the brain child of Mrs. Ruby Biswas, our beloved and respected Director, who came as a bride to a conservative Bengali Family of Shyambazar in North Kolkata. She could find out the basic sense of dressing and beautification lacking among the women in that family and neighborhood. There were few who had the aptitude for such things were deprived of the appropriate treatments. It made her to consider the opening of a salon where latest techniques of beauty, hair and skincare would be administered to clients by trained professionals. With such considerations in mind, SAAJO had come into existence on the 9th of May, 1988.
Mrs. Ruby Biswas is an ex-student of the Sacred Heart Convent in Jamshedpur. She had obtained her B.Sc. degree from Bethune College, Kolkata.Read More…
Talk to us. To reserve
your seat in your time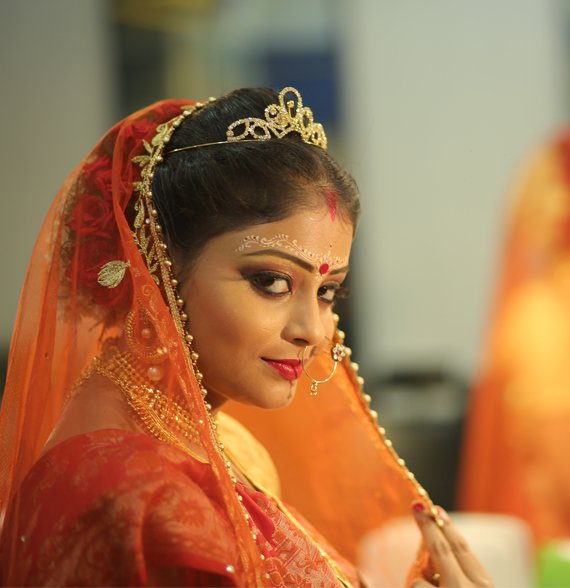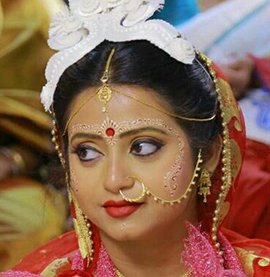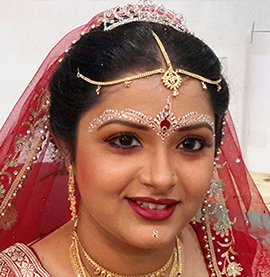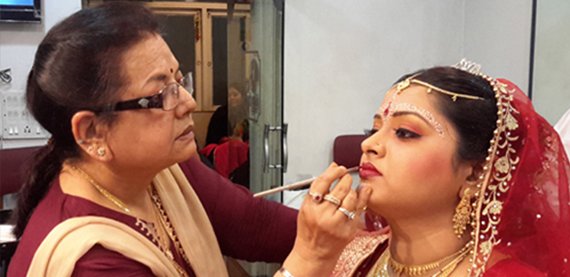 OUR
TREATMENTS
Beauty is one of the innate features in us. Face, hair, nail, skin, dress-ups make a significant contribution to our beauty. Among these, the natural elements require proper nurture with best beauty clinic in Kolkata in order to keep the glow intact. Hair develops grayish color with age. The skin also loses the firmness as the cells become loosely bonded with aging. Perfect mollification of the skin over face requires appropriate cleansing from the depth.  We are providing various beauty treatments for ladies in Kolkata. These include anti-aging, skin brightening, pore tightening, deep cleansing etc. We make use of Yoga and latest electro-gym therapies for perfect toning of the body.

Electrolysis
Electrolysis is a chemical process that is used in removing unwanted hair follicles from various parts of our face and body. Chemical or heat energy within the implementing device helps in destruction of the growth center of the hair. This type of treatment can be used in several parts of the body. These include eyebrows, face, abdomen, thighs, legs and breasts. One of the beautiful aspect of the affair is that the process leaves no side effects though there could be a development of redness on the skin.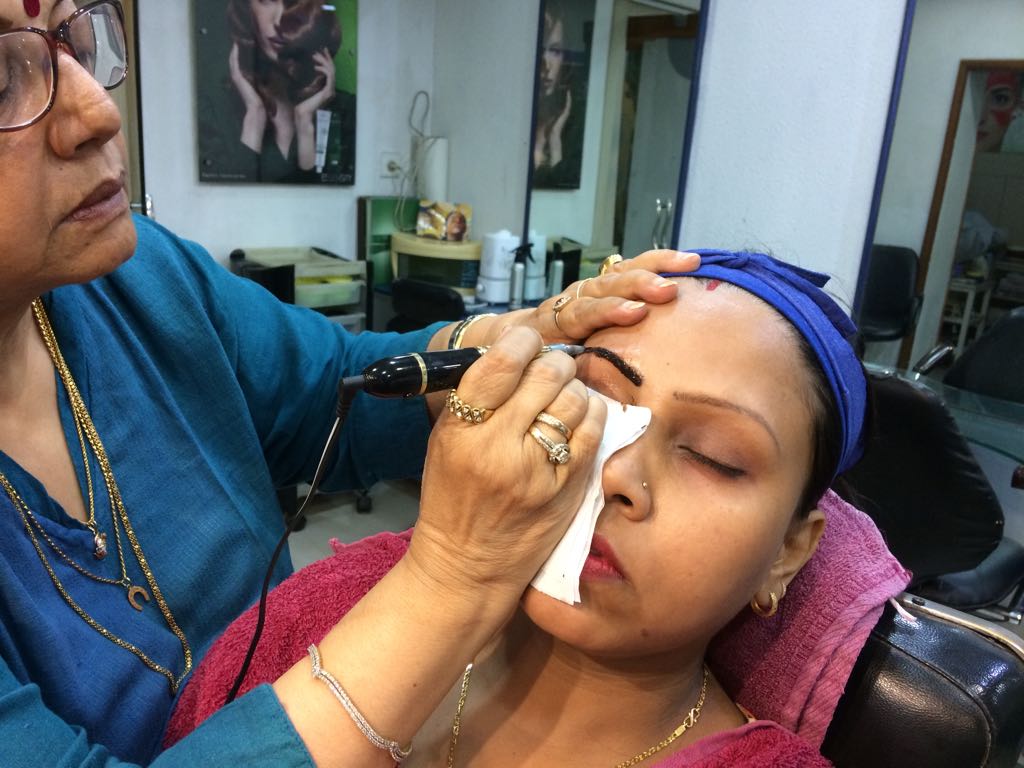 PERMANENT
EYE MAKEUP
Use of appropriate tattoo color and needle has helped us in performing permanent makeup for eyes. It forms an essential part of beauty treatments for ladies in Kolkata. The process is, in fact, is a form of tattooing where the pigment is implanted over the upper layer of the skin. Such implantation can be made through the usage of tattooing methods. Such methods may include traditional tattoo, coil machine, rotary or pen machine, or by hand application. Permanent cosmetics may fade out over time. Therefore, it requires periodic repetition. But, it is considered permanent as the color retains for a longer period.

HEALTH
& FITNESS
Having sound health and an impressive look are two essential components of beauty. Health is, in fact, considered as the perfect wealth of our being. One of the top indications of a healthy statute is the presence of fitness. A person is considered fit when a perfect balance of height and weight is seen in him/her. Maintenance of the two said factors is in full control of a person. Regular exercise and consuming balanced diet work in keeping fit and looking fresh. Our Ladies Fitness gym in north Kolkata has introduced latest electro-gym therapy as well as traditional yoga session that impart appropriate solution for these.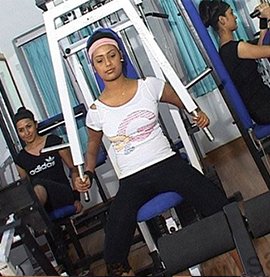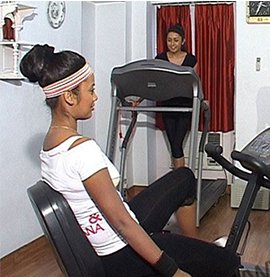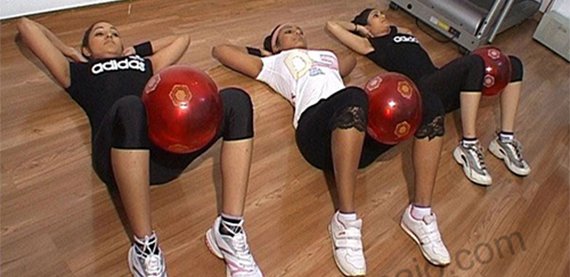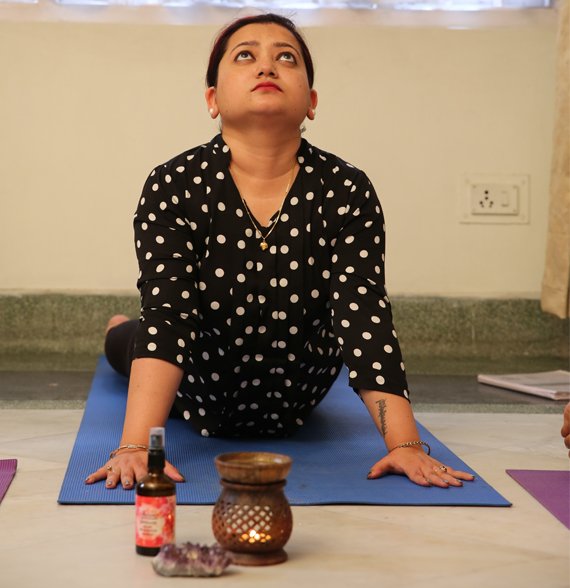 MANI
CURE
Manicure helps in curing dry patches in hands and bitten nails can be reshaped with this technique. It helps in removal of cuticles thereby softening skin. Latest nail art and extension technology have been introduced in our Beauty clinic in North Kolkata. These help in taking optimum care of nails.

PEDI
CURE
Pedicure is a therapeutic treatment for feet. Dead skins are removed by using beauty treatment for ladies in Kolkata. The resulting glowing feet helps in ultimate beautification. Pedicure practiced in our organization is a two-fold process comprising light massaging and paraffin wax mask. Paraffin helps in perfect toenail shaping.